Vehicle Comparison
2021 Ford Escape
2021 Toyota RAV-4
Fuel Economy
26/31 MPG  
25/33 MPG
Towing Capacity
2,000 lbs.
1,750 lbs.
Ground Clearance
7.3 in.
8.6 in.
Engine
2.4L/250 V-4*
2.5L V-4
Power
375 HP
355 HP
Torque 
190 LB/FT@3000RPM  
184 LB/FT @5000RPM





Transmission
8-Speed-Auto
8-Speed-Auto
Source: "Compare Ford Escape vs Toyota RAV4" CarBuzz
Source: "2021 Ford Escape or Toyota RAV4? Compact SUV Rivalry Heats Up" Motor Trend
*Escape SEL and standard on the top-spec Titanium
Battle of the Versatile Compact Crossovers
Crossovers are taking over as the new family sedan. When you need a bit more space for your family, compact SUVs are the perfect choice. The new 2021 Ford Escape and Toyota RAV4 are popular choices in the market. But when you've narrowed it down to these two vehicles, how do you know which one is right for you? Jimmy Michel Motors Inc. has put together a comprehensive comparison for your research phase. As always, if you have any questions about your new vehicle, we're always happy to help. Our team has extensive knowledge of Ford vehicles. When you're ready, stop by our Aurora, MO dealership for a test drive! The best way to experience a new vehicle is to get behind the wheel.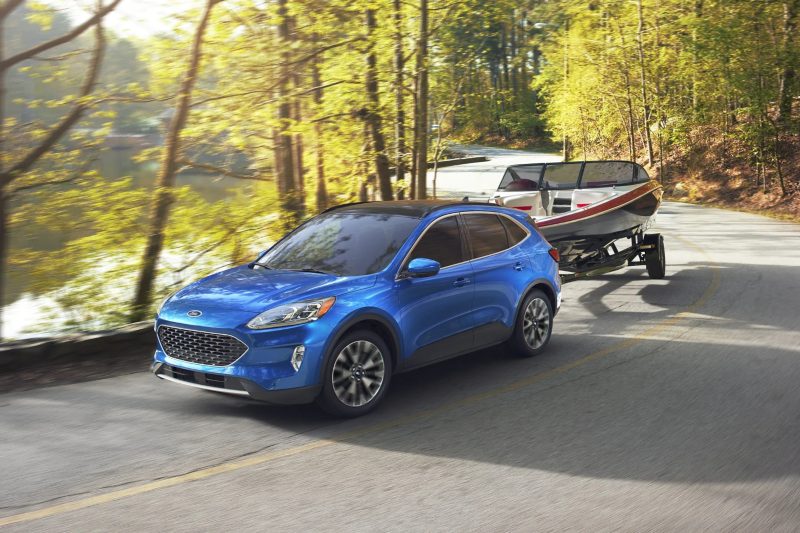 What's Under the Hood
One of the best aspects of Ford vehicles is their customizability to make them truly your own. The 2021 Escape is no different with a wide range of powertrains. The standard engine is a 181-hp turbocharged 1.5-liter three-cylinder. You can pair this with front- or all-wheel drive. The three-cylinder engine provides smooth and adequate acceleration, propelling your Escape to 60mph in 7.7 seconds. For a more powerful option, upgrade to the 250-horsepower turbocharged 2.0-liter four-cylinder. This drops your 0-60 to 5.7 seconds. 
 
Hybrid Models Available
You also have the option of two different hybrid models, giving you a 2.5-liter four-cylinder with two electric motors combining to make 221 horses. 
A 203-horsepower 2.5-liter four-cylinder engine powers the Toyota RAV4 connected to an eight-speed automatic transmission. Also available in front- or all-wheel drive, it clocks in a 0-60mph time of 8 seconds. Some have reported excessive noise on interstate driving; however, it is a stable and reliable drive anytime you're behind the wheel.
  
Travel
Both vehicles are great for compact SUVs with plenty of versatility on the road. Whether you're commuting to work or going on long road trips with the family, you'll find comfort, safety, and entertainment. The next step is stopping by for a test drive! 
Infotainment, Comfort, and Features
Speaking of being behind the wheel, what do these crossovers feel like on the interior?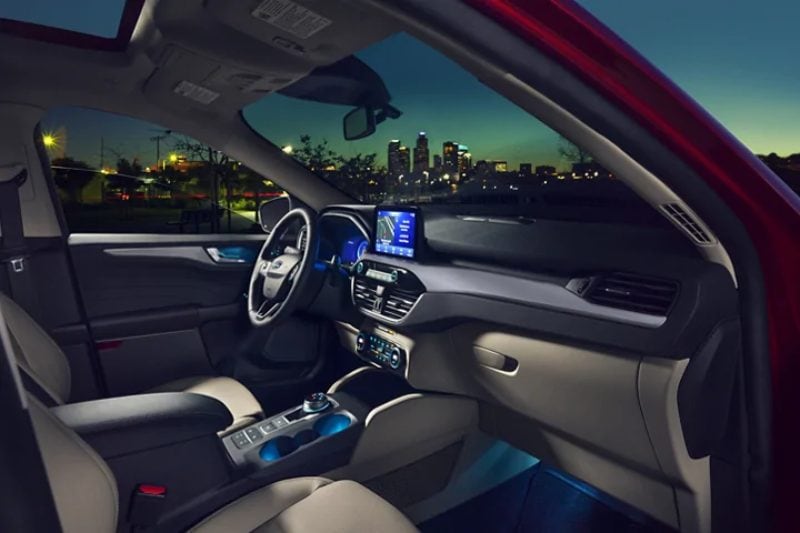 Escape Interior Space
The Ford Escape offers slightly more room for everyone involved, so if you plan on taking your family around on longer trips, you may steer away from the Toyota. Additionally, for taller drivers, the Escape provides a bit more room in the driver's seat in head- and legroom than its Toyota counterpart. Both vehicles offer comfortable and stylish interiors with upgradable materials at higher trim levels. The RAV4 emphasizes cubby storage with ample space for storing items, electronics, and more for long road trips. 
 
Escape Features
The Ford comes standard with a 4.2-inch radio display with upgradeable options to an 8.0-inch touchscreen infotainment display sporting Ford's Sync 3 platform. This includes Apple CarPlay/Android Auto, a smartphone app to allow remote control to the vehicle with remote start, and more. The Titanium model boasts a 10-speaker B&O Play audio system, an oversized 12.3-inch digital gauge display, pop-up heads-up display, and in-dash navigation. 
The Toyota RAV4 comes standard with a 7.0-inch touchscreen with an option for an additional inch at the XLE level. The infotainment screen includes a 4G LTE mobile hotspot, Apple CarPlay, Android Auto, navigation, wireless charging pad, and more. Audio is powered by JBL. You can also add turn-by-turn directions to the dashtop screen for added visibility and safety while driving.