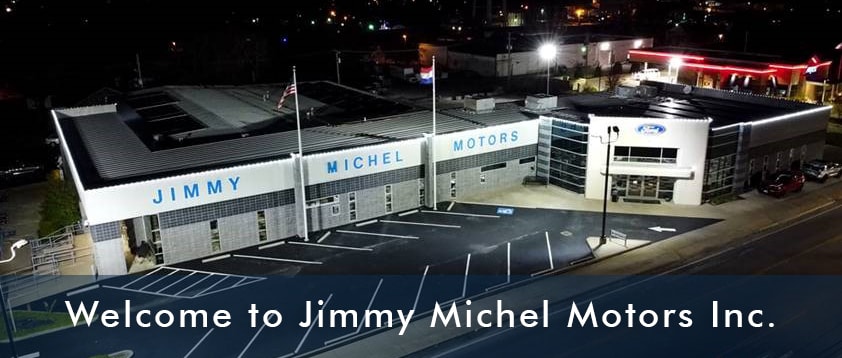 JIMMY MICHEL MOTORS



What really sets a car dealership apart these days?
New & Certified Pre-Owned Ford Vehicles
Our team at Jimmy Michel Motors is dedicated to providing the best customer satisfaction throughout Aurora, Republic, Mount Vernon, Sarcoxie and Ash Grove areas. We believe our friendly service and expert knowledge of all our vehicles make us stand out. When you're looking for a new Ford F-150, you can expect a helping hand to match you with the perfect pickup. Is it time for an oil change in your Mustang? Bring it into our top-notch service center for quick, efficient, and affordable maintenance. Do you need some help financing your certified pre-owned Explorer? Our finance team helps you every step of the way, getting you the best deal on your auto loan with affordable, easy payments. There's nothing we can't do at our Ford dealership. Stop by today!
Great Value, Selection, & Prices
You're a smart shopper! You know what it takes to find a great deal on a new car or quality used car. Whether you're looking for the perfect new vehicle or a great deal on a low-price car or low-mileage Car, you can be in-control as you use the car shopping tools on this website to find the vehicle you want. Plus, you can check out the current online specials and promotions that change all the time!
Transparent Service from Your Community
Throughout our easy and quick process, both buying and selling vehicles and conducting repairs and maintenance, we take care of our customers. We understand that most people don't want to deal with all the steps of purchasing a vehicle or filing financing paperwork, so we handle as much of the nitty-gritty as possible. This allows you to enjoy the fun and straightforward process, like finding out what creature comforts you'll enjoy on your new F-150. When you need to bring your vehicle in for repairs, we're quick and efficient, getting you back on the road looking good as new.
Easy-To-Find, Convenient Location
To visit our dealership, check out our map and location and department hours - we would like to meet you in person and help you with your car ownership needs. Our dealership is conveniently located and worth the drive.
Expert Service Center
When it's time for regularly scheduled service, maintenance, or repairs, we hope you'll consider our modern and friendly service department. If you need parts or accessories for your vehicle, we're glad to help and have departments standing by and ready to serve you. Our team is well-versed on all types of Ford vehicles to serve you better. We continue to go through training programs and expand our knowledge and understanding of Ford vehicles as well. By staying on the cutting edge of auto repair and maintenance, we promise you excellent service no matter what your issue may be. At the first sign of an issue, bring it in to our service center for quick, affordable repairs. The longer you wait for auto repairs, the worse a problem can become. We look forward to working for you and returning your Ford truck, car, or SUV back to its pristine, like-new condition.