Keep Your New Ford Running Strong with Jimmy Michel Motors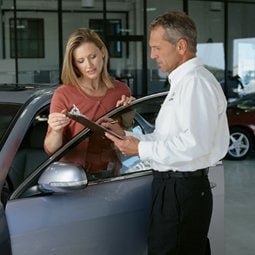 Your new or used Ford is your trusty automotive sidekick. You rely on your Ford F-150, F-350, Escape, or Edge to keep you and your loved ones safe while you're on the move. For that reason, among others, upholding your car's integrity is something that we at Jimmy Michel Motors take very seriously. In fact, our auto service center in Aurora, Missouri is staffed with Ford specialists. Always happy to keep the drivers that we serve from greater Republic, Mount Vernon, Sarcoxie, and Ash Grove safely on the road, our team is able to perform routine maintenance and repairs when necessary. For more information, we invite you to visit Jimmy Michel Motors in person or fill out our contact form today.
Professional & Reliable Auto Repair
When you need auto repairs for your Ford vehicle, look no further than Jimmy Michel Motors. Our professional technicians combine their years of experience with the latest tools and technology to provide you with fast, reliable repairs. While you can't ever predict when your vehicle may break down or require repairs, you can know that we have your back. Our team is always available to help with emergency repairs and services to get you back on the road. We offer free estimates and fair pricing on all our repairs. Our team will never suggest a part or repair you don't need. 
Service for All Vehicles
At Jimmy Michel Motors' service center, we aim to be exceptionally skilled in all aspects of auto repair and maintenance. Whether you need a routine oil change or a full transmission rebuild, we're happy to help. While we always prefer to conduct preventative and routine maintenance to keep your Ford running smoothly, we understand accidents happen. We conduct the following services and more at our state-of-the-art service center:
Oil changes
Air conditioning repair
Engine and transmission work
Routine maintenance and tire rotation
Tire replacement and patching
Competitive Pricing on All Our Work
Our team is dedicated to dispelling the rumor that dealership repairs are expensive. All our services are priced fairly and are affordable, allowing you to rest easy knowing you're getting top-notch service for your Ford vehicle without breaking the bank. We even provide no-pressure free estimates, allowing you to shop around with ease. But we're confident in our work and our prices. All of our mechanics are licensed and trained professionals with a deep understanding of Ford vehicles and more.
Experience the Difference Today
No matter what your Ford vehicle needs, we're equipped to handle it. We take care to accurately diagnose each issue you're experiencing and find the most reliable and cost-effective method of treating it. This way, we eliminate unnecessary repairs and replacements, saving you on both time and money. We understand the importance of having a reliable vehicle, so we work quickly and efficiently to conduct your repairs and get you back on the road. At Jimmy Michel Motors, we guarantee our work. Call us today to schedule your appointment for fast, efficient, and affordable auto service repairs.