The Ford Future is Electric
Ford hybrid and electric vehicles feature advanced fuel-saving technology. Whether they're operating in electric mode, gas mode or a combination of both, these vehicles optimize efficiency and simplicity. The plug-in hybrid vehicles can be recharged in under three hours using a 240-volt outlet.
Triple Threat Performance
With this kind of horsepower, torque and acceleration, you can feel like  champion the moment you slide into the drivers seat of this all-electric SUV.
Electric Vehicle vs. the Elements
Who says electric vehicles can't drive in the snow?
Watch as Ford tests one of their electric prototypes in harsh conditions at Smithers Winter Test Center
All-Electric F-150
An electric vehicle that's Built Ford Tough? You bet. Watch the prototype tow more than 1 million pounds.
The F-150 prototype is towing far beyond a production truck's capacity in a one-time short event demonstration. Never tow beyond a vehicle's towing capacity. Always consult the owner's Manual.
Simple to Own. Electrifying to Drive.
Owning an EV is surprisingly easy. Ford is committed to making it even easier, with all the answers you need.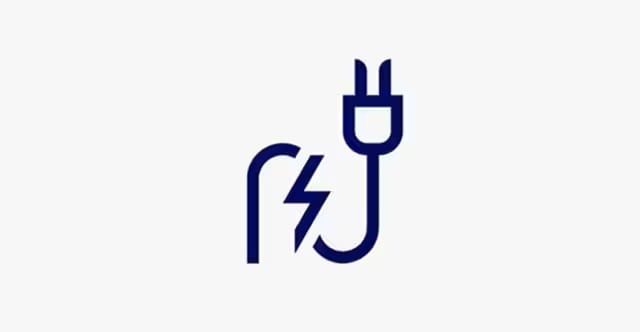 Charging is easy both at home an on the road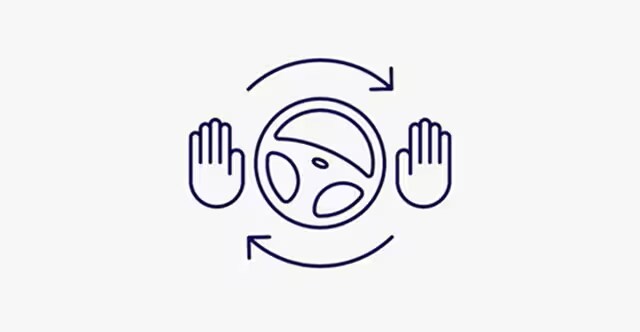 Unexpectedly exhilarating EV performance. Mind-blowing technology. Driving has never been more fun.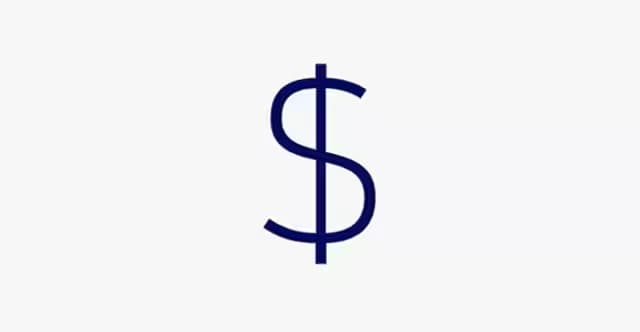 From potential tax incentives to savings on gas and scheduled maintenance, a Ford EV helps keep money in your pocket.
Lets Go Electric, Together
$7,500 in Potential Federal Tax Credits*
If you are purchasing and currently taking delivery of a Ford electric vehicle (EV) or plug-in hybrid EV (PHEV) you may qualify for as much as $7,500 in federal tax credits.
* Subject to MSRP cap of $80,000 and adjusted gross income caps. See vehicle pages for details. Please consult with your own tax or legal professional to determine eligibility, specific amount of incentives or rebates available. The federal tax credit is a potential future tax savings. The amount of your tax savings will depend on your individual tax circumstances. Incentives and additional rebates are not within Ford's control. This information does not constitute tax or legal advice.
Exhilaration Electrified
---
Ford Mustang Mach-E® delivers a driving experience like no other Mustang before it. We're talking uninhibited exhilaration on every drive - courtesy of the all-electric drivetrain with its BREATHTAKING POWER AND TORQUE. It takes less than half a second1 to reach maximum torque. You also get electric power-assisted steering and a fully independent suspension, which is designed for lightweight strength, working together to channel this thrilling output to the road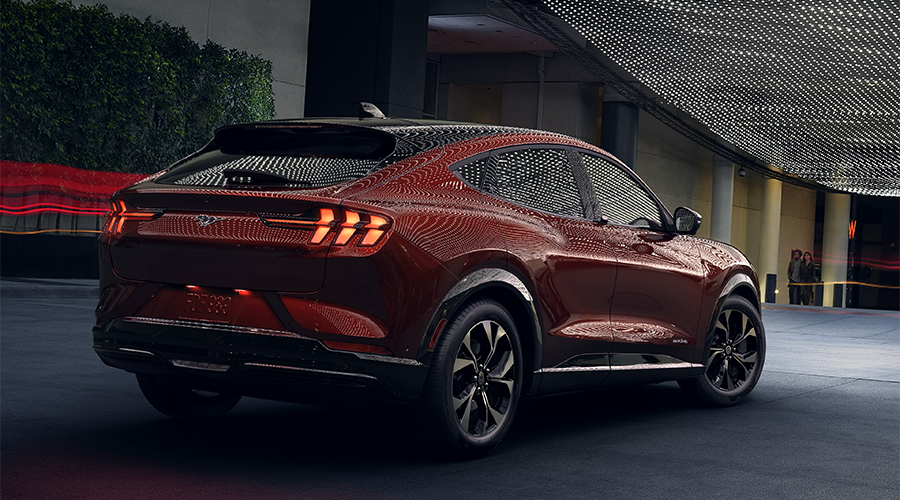 MOST TORQUE OF ANY F-150® EVER

---
The 2023 F-150® Lightning® offers 775 lb.-ft. of easy to modulate, nearly instant torque. Whether you're pulling a boat out of the water or pulling away from a traffic light with a loaded bed, the Lightning® Truck is ready to do the job. *
*Based on manufacturer testing using computer engineering simulations. Calculated via peak performance of the electric motor(s) at peak battery power. Your results may vary.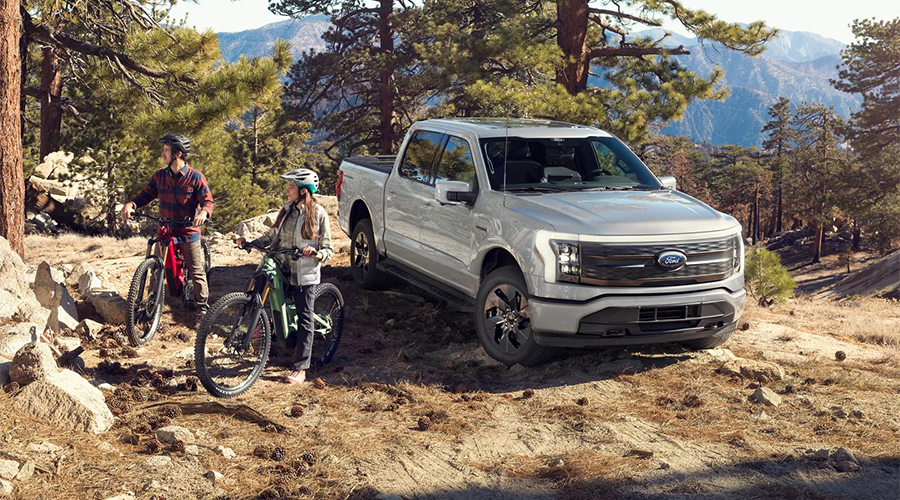 HARDWORKING. EFFICIENT. ELECTRIC.
---
A hardworking vehicle for hard workers. The E-Transit™ model does everything but compromise. For instance, by placing the battery underneath the body of the vehicle, you get the benefits of an electric powertrain without using up cargo space. And, this vehicle boasts impressive range on a single charge.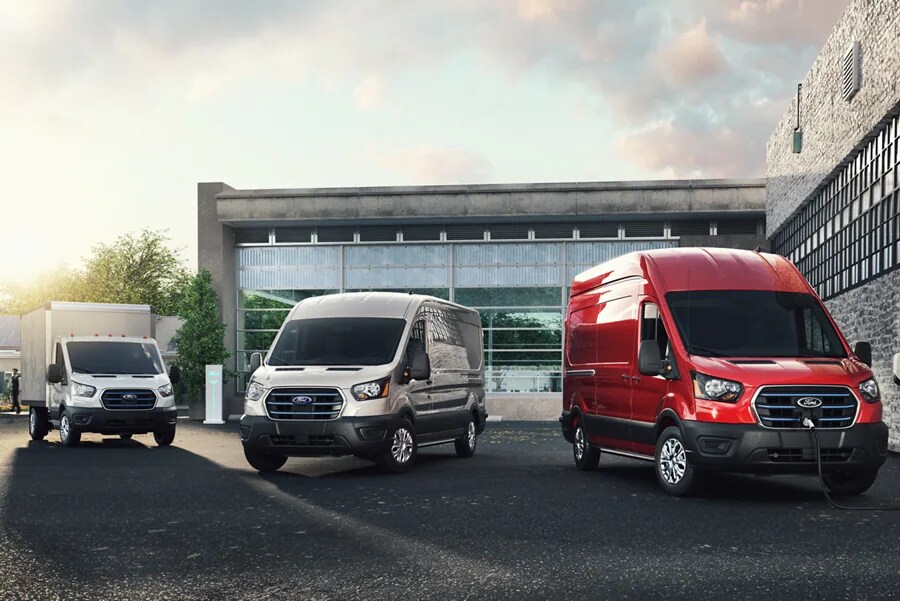 Charging How-Tos
Get to know your all-electric vehicle with these tips for fast and convenient charging.
Charging Basics
There are many ways to charge your all-electric vehicle. Here are a few things you should know before plugging in.
Charging at Home
Charging at home can be as simple as plugging in, but here are some additional tips on how to enjoy a seamless charging experience.
Charging on the Road
Ford makes it easy to charge your all-electric vehicle on the go. Here's a quick overview on how to utilize the Blue Oval™ Charge Network.
Ford Offers You the Largest Public Charging Network in North America
On the road, Ford customers will have simple and easy access to the Blue Oval™ Charge Network - the largest public charging network in North America offered by automotive manufacturers. With over 19,500 charging stations and growing, these stations are as common as some of the most popular pharmacy or coffee chains.*
*Based on original equipment manufacturers (OEM)/automotive manufacturers that sell all-electric vehicles and have publicly announced charging networks. Department of Energy data used. FordPass, compatible with select smartphone platforms, is available via a download. Message and data rates may apply.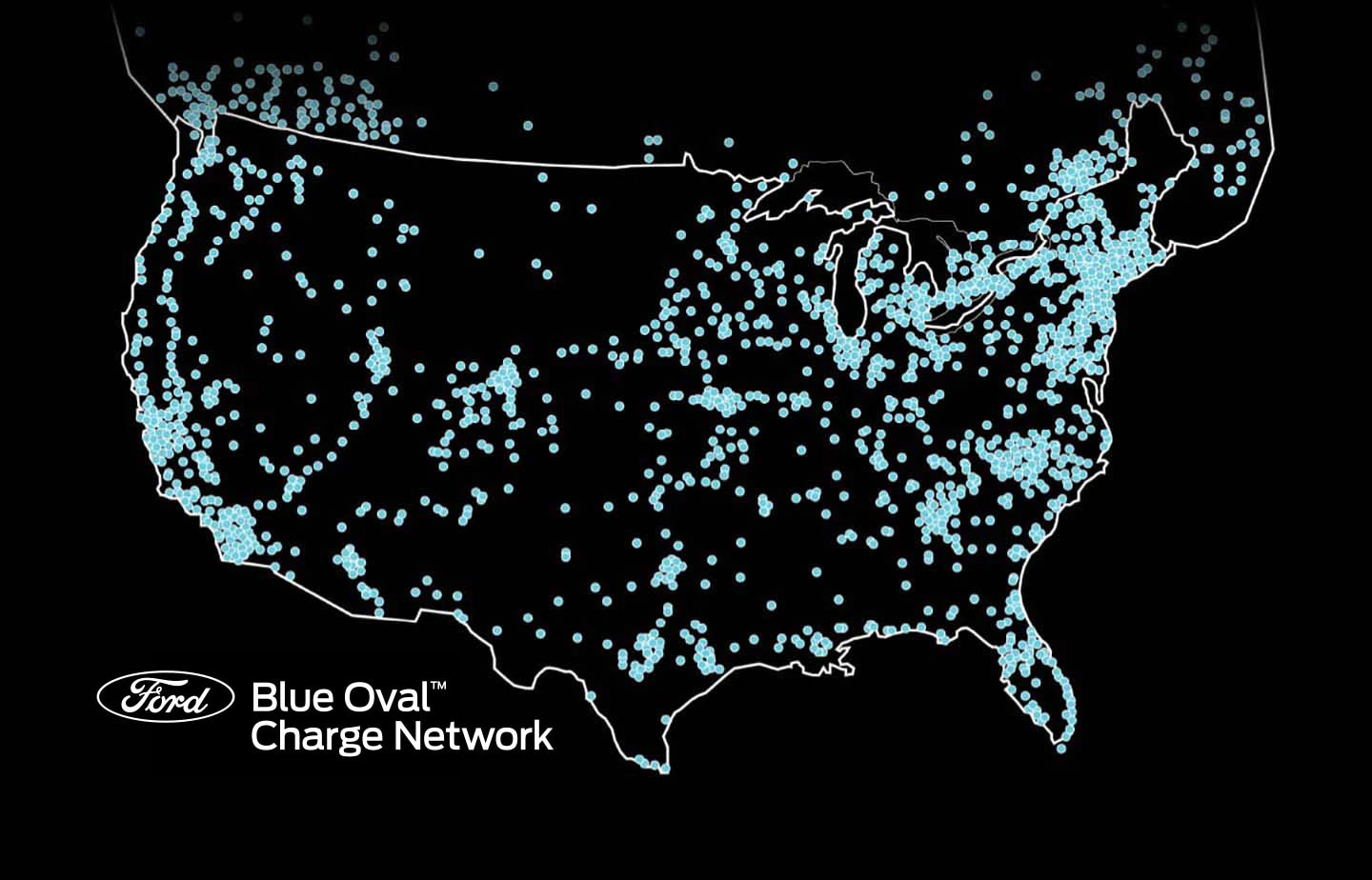 How can we help?
* Indicates a required field